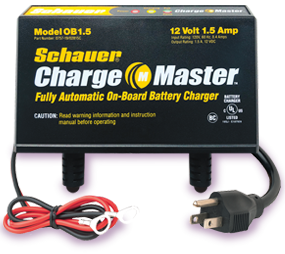 1.5 Amp On-Board Fully Automatic
Easily keeps batteries charged in stored vehicles. Turns off automatically when battery voltage exceeds 14.0 and back on when voltage drops below 13.0.

Mounts on battery box. Hardware included.

Indicator lights, green LED on-light, red charged light.

Fully automatic, can be left on the battery indefinitely.
Click link below for full catalog data sheet pdf.
Jonathan Chaiken April 16th, 2015
Posted In: Automotive Chargers, Products