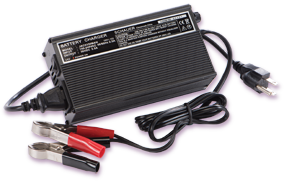 Fully Automatic 36 or 48 volt Battery Maintainer
Extend the life of your batteries with this battery maintainer. Prevents battery sulfation during equipment storage.

Maintainer for 36-volt or 48-volt battery systems. Use on 10 to 300-amp hour lead acid batteries, typical of golf carts, industrial scrubbers, etc.

Current limiting.

Fully automatic maintainer can be left on the battery in maintaining/float mode.

Red LED indicates AC power on. Yellow maintaining at 2.5 amp. Green maintaining at 1 amp or less.
Click link below for full catalog data sheet pdf.
Jonathan Chaiken April 16th, 2015
Posted In: Mobile Equipment Electronic Chargers, Products