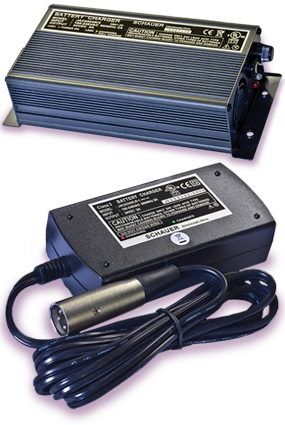 Fully Automatic World-Wide Universal Input Electronic Charger
Intelligent chargers follow battery impedance to end of charge cycle for all battery types. Fully automatic. Red LED indicates AC power on, yellow LED indicates battery is charging, green LED indicates float mode. Aluminum case.
World–Wide Universal AC Input 90 – 260 volts, 50/60Hz.

Charge control: modified constant current charge to a constant finishing voltage then to a float standby.

Current limiting.

Fully automatic 3 stage charger can be left on the battery indefinitely.

For any type lead acid battery, including conventional, maintenance free, deep cycle, gelled-type, valve regulated batteries.
Click link below for full catalog data sheet pdf.
Jonathan Chaiken April 16th, 2015
Posted In: Mobile Equipment Electronic Chargers, Products